The Old Winemakers House
Lieu Dit Moreau, Cazaugitat, 33790, Aquitaine, South West France


Catch Your Breath In This Haven Of Tranquility
The Old Winemaker's House; built in 1600 has recently been renovated to a high standard, retaining many original features, and now offers simple but stylish Bed and Breakfast accommodation comprising a family suite sleeping 5 and two further double bedrooms with en-suite facilities. Wifi is available throughout the house and close-by outside. Camping is available if arranged in advance.
In the centre of the Bordeaux wine region you will be ideally placed to explore the South West Region of Entre-Deux-Mers (between the two tidal rivers of Garonne and Dordoigne) where it is estimated 250 wine producers farm 1,500 hectares under vine. Degustation is welcomed and vente directe invites you to buy from the vineyard itself. By arrangement with our neighbours, they will show you around their Chateaux invite you to sample the range of wines they produce whilst explaining a little about the process.
Temperatures during the day range from 16 degrees in March, to 23 degrees in May, 29- 32 in July and August then descending slowly to 20 degrees by October. December and January are the lowest temperature months at 10 degrees during the day and 2 degrees at night. The Old Winemakers House has under-floor heating, radiators and a log burner in both, the dining and sitting rooms. The winter here is beautiful with frost on the trees and bright sunlight – a great combination for walkers.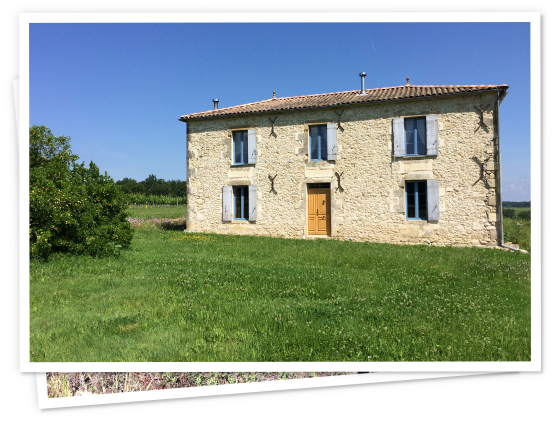 Saint Emilion (Bottom right)
Of particular interest to wine connoisseurs and historians is the nearby World Heritage Site of Saint-Emilion.
Visit during the day to discover cobbled streets & beautiful buildings, such as the Cordeliers monastery and the underground pottery museum, containing pottery from 2000 years ago up to the present day.
Saint-Emilion has good quality restaurants, both in the square and built into rock beside the winding narrow streets. Often a duo will perform within the square which adds to the atmosphere (24km)